Mass motorbike gang causes traffic jams in Bethlehem
Submitted by

THUMPERRRR

on Sun, 04/17/2016 - 7:01pm
A gathering of more than 100 Outlaw Motorcycle Gang members, believed to be attending a memorial service at Te Wairoa Marae, triggered a large police operation in Bethlehem during the weekend which caused major traffic jams.
The road policing operation caused traffic congestion and delays along State Highway 2 on Saturday morning but Senior Sergeant Denis Murphy said the police were not apologetic.
While the delays to other motorists and road users were "unfortunate", the police made "no apology for policing gangs".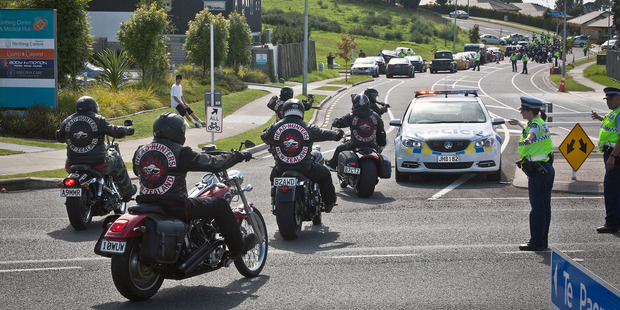 A large gathering of motorcycle gang members prompted a major police operation. Photo / Andrew Warner
At one point during the operation police closed off the roundabout near the Bethlehem Birthing Centre on the corner of Te Paeroa Rd, causing traffic to back up all the way to Omokoroa one way and 11th Ave the other.
There was a heavy police presence and cordons at the Te Paeroa Rd roundabout. Te Paeroa Rd was blocked off and being used by police to process motorcyclists. There was also a smaller police presence near Wairoa Bridge.
A reporter at the scene counted at least nine police officers on one end of the cordon and six police cars and at least 18 police officers at the other end.
Mr Murphy said historically gang rides had caused public concern with members riding en masse.
He said there were just over 100 motorcyclists who came from local chapters as well as from Auckland.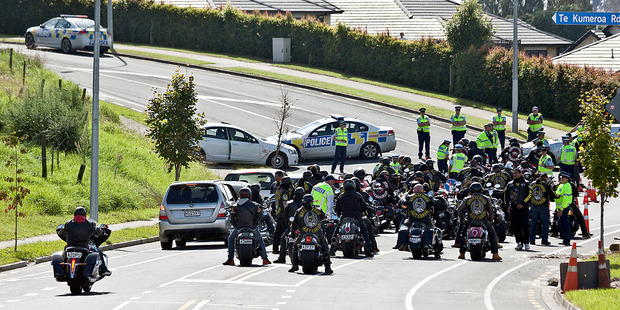 Police oversee the convoy of Outlaw Motorcycle Gang members.
News Article written by:
Peter White, Allison Hess
Related Articles
Elk Hunt
Fly Fishing Guide
Silver Stock
Biker News
Disclaimer: The opinions in this article are solely those of the writer, and may not reflect the beliefs of anyone at the Biker News Network/Outlaw Biker World. This site may contain copyrighted material the use of which has not always been specifically authorized by the copyright owner. We are making such material available in our efforts to advance understanding of political, human rights, economic, democracy, and social justice issues, etc. We believe this constitutes a 'fair use' of any such copyrighted material as provided for in section 107 of the US Copyright Law. In accordance with Title 17 U.S.C. Section 107, the material on this site is distributed without profit to those who have expressed a prior interest in receiving the included information for research and educational purposes. If you wish to use copyrighted material from this site for purposes of your own that go beyond 'fair use', you must obtain permission from the copyright owner. If you believe that your copyrighted work has been copied in a way that constitutes copyright infringement and is accessible on this site or through this service, you may notify our copyright agent, as set forth in the Digital Millennium Copyright Act of 1998 (DMCA). For your complaint to be valid under the DMCA, it must meet certain criteria, and you must Click Here to contact acting agent.
Who's new
WayneNella7

Junebug72

Devilstar

brianmikenusker...

Tyrsson
Who's online
There are currently 0 users online.