You are here
Home
›
1%er News
› UPDATE: Hells Angels flier triggers police saturation in Burns Harbor ›
UPDATE: Hells Angels flier triggers police saturation in Burns Harbor
Submitted by

THUMPERRRR

on Fri, 05/20/2016 - 6:12pm
BURNS HARBOR — A flier promoting an event hosted by the notorious Hells Angels motorcycle group triggered a police saturation patrol Wednesday night in the area of U.S. 20 and Ind. 149 that drew 60 officers from 11 different agencies.
"The objective was to maintain a police presence to deter any criminal activity in order to maintain the safety and security for the citizens of Porter County," according to a press release from the Porter County Sheriff's Department.
The action mirrored a saturation patrol in late March when as many as 45 officers from seven agencies flooded Portage and South Haven in response to the appearance of two hip-hop artists that police said have a potentially dangerous following. That action resulted in the arrest of musician Twista, whose legal name is Carl Terrell Mitchell, on a misdemeanor charge of possessing marijuana.
Thursday's Bike Night event was planned at the The Mill Bar & Grill at 295 Melton Road in Burns Harbor.
Teresa Wright, one of the owners of The Mill, said Friday the event was a charitable, fundraising event with proceeds benefiting SELF School and a home-school program for cancer patients.
"It was a positive event," Wright said. "There were no issues. It went smooth."
Wright said the business raises money for various positive causes throughout the year and this was just another fundraiser.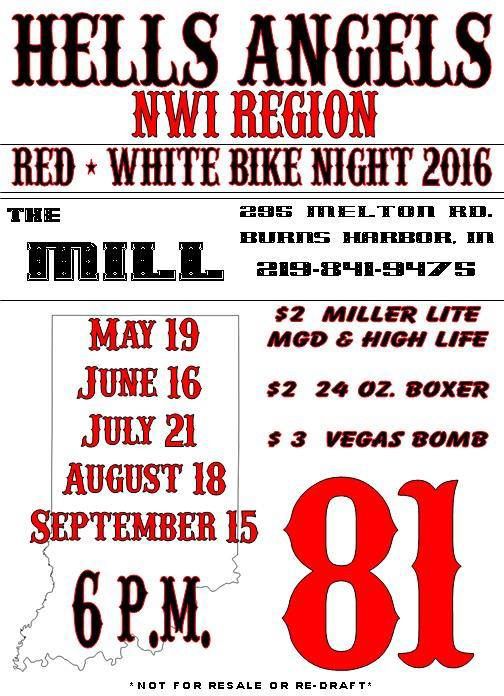 "We didn't do this to do anything bad. They asked if they could come through and we were more than happy to contribute to this charitable event."
According to a Department of Justice 2011 National Gang Threat Assessment report, the Hells Angels are categorized as an Outlaw Motorcycle Gang, according to the Porter County Sheriff's Department. The report says Outlaw Motorcycle Gangs, "are organizations whose members use their motorcycle clubs as conduits for criminal enterprises."
Porter County Sheriff Dave Reynolds said: "Once again, the law enforcement agencies in Porter County came together to ensure the safety of our citizens."
Agencies taking part in the saturation patrol were the Indiana State Police, Indiana Excise Police and the Porter County, Lake County, Porter, Portage, Ogden Dunes, Valparaiso, Chesterton, Kouts and Hebron police departments.
The patrol took place from 5-11 p.m. There were numerous traffic stops and a few arrests, which are still being compiled for release, according to the Porter County Sheriff's Department.
Police are planning similar saturation efforts on the future Bike Nights listed on the Hells Angels flier.
Related Articles
Elk Hunt
Fly Fishing Guide
Silver Stock
Biker News
Disclaimer: The opinions in this article are solely those of the writer, and may not reflect the beliefs of anyone at the Biker News Network/Outlaw Biker World. This site may contain copyrighted material the use of which has not always been specifically authorized by the copyright owner. We are making such material available in our efforts to advance understanding of political, human rights, economic, democracy, and social justice issues, etc. We believe this constitutes a 'fair use' of any such copyrighted material as provided for in section 107 of the US Copyright Law. In accordance with Title 17 U.S.C. Section 107, the material on this site is distributed without profit to those who have expressed a prior interest in receiving the included information for research and educational purposes. If you wish to use copyrighted material from this site for purposes of your own that go beyond 'fair use', you must obtain permission from the copyright owner. If you believe that your copyrighted work has been copied in a way that constitutes copyright infringement and is accessible on this site or through this service, you may notify our copyright agent, as set forth in the Digital Millennium Copyright Act of 1998 (DMCA). For your complaint to be valid under the DMCA, it must meet certain criteria, and you must Click Here to contact acting agent.
Who's new
DeadGrizzly

Tiny5775

bongoman

Debra

SpiderGent
Who's online
There are currently 0 users online.