You are here
Home
›
1%er News
› Twin Peaks motorcycle forfeitures on hold while criminal cases continue ›
Twin Peaks motorcycle forfeitures on hold while criminal cases continue
Submitted by

THUMPERRRR

on Sun, 09/11/2016 - 6:33am
Diego Obledo does not fit what many consider a typical biker stereotype.
The 42-year-old San Antonio man drove a Toyota SUV, not a Harley, to Waco on May 17, 2015. Instead of carrying a Glock or Beretta, he had a camouflage-covered New Testament in his pocket, given to him during his time in the Texas Air National Guard.
Before coming to Waco on the morning of the deadly Twin Peaks shootout, Obledo was making more than $100,000 a year as a manager of a financial services company, according to his attorney, Don Tittle.
"He has no criminal record at all. He had a Bible in his pocket, not a gun," Tittle said.
Obledo said he ducked behind a car in the parking lot when the gunfire erupted. He was not injured, but he was among 177 arrested after the deadly shootout ended and remains among 154 who since have been indicted.
No trial dates currently are set for the criminal cases. Meanwhile, Obledo's 2009 Toyota Venza and 25 other vehicles, including 16 motorcycles, eight pickups and another SUV, have been stored at the city of Waco impound lot for the past 16 months.
Hundreds of bikes and vehicles were towed from the Twin Peaks crime scene after the incident that left nine dead and dozens injured. Most have been returned to owners. Some were repossessed after lienholders learned the vehicles were at Twin Peaks despite purchasers not being current on payments.
But, the 26 in storage are part of civil seizure and forfeiture proceedings filed by the McLennan County District Attorney's Office in June 2015.
There has been no activity in those civil suits since then, other than general denials of the accusations filed by owners of the vehicles.
Statutes allow prosecutors to seize cash, vehicles, property and other valuable items that they allege are used in a crime. If successful, the items are sold at auction and the proceeds can be used to assist law enforcement.
Obledo spent 15 days in jail before his $1 million bond was reduced, but he lost his job and the home he and his wife were buying, and his vehicle remains in storage 16 months later, Tittle said.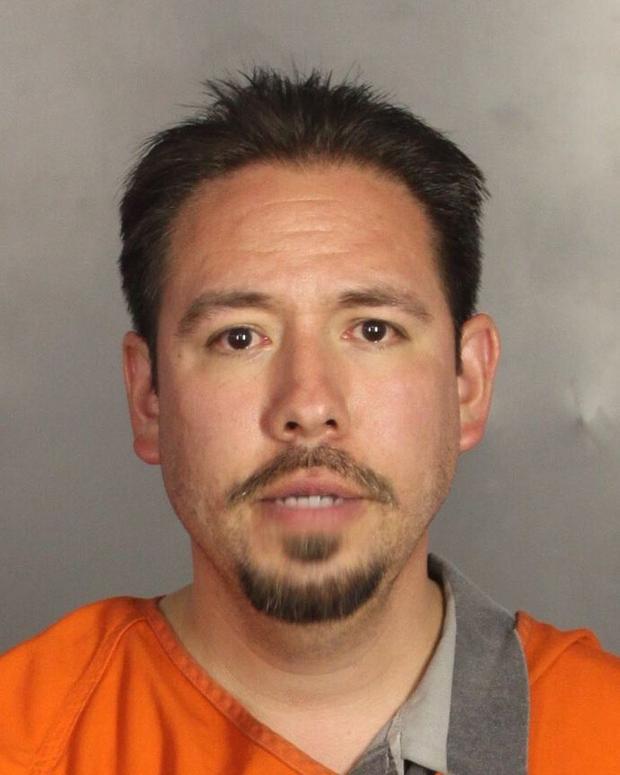 Obledo
Civil rights lawsuit
He is one of 10 bikers represented by Tittle who have filed civil rights lawsuits against McLennan County District Attorney Abel Reyna and former and current Waco police officials in an Austin federal court, alleging they were arrested and jailed but did nothing wrong.
Obledo has said he wore a Bandidos T-shirt under another shirt that day but it could not be seen, adding that he has no ties to the Bandidos.
Records filed in the forfeiture case allege Obledo told police he was a "hang around" for the Valerosos Motorcycle Club, which officials identify as a Bandidos support group.
Police found a 9 mm pistol, a red Valerosos T-shirt and camo body armor with a bulletproof plate in his Toyota, records show.
Prosecutors dismissed one of the forfeiture cases last year, returning a 2009 Harley-Davidson motorcycle to Kristoffer Rhyne. Documents allege Rhyne is a road captain of the Bell County Cossacks chapter.
Rhyne's attorney, Michael DeGeurin, of Houston, said the case was dismissed after prosecutors learned that Rhyne recently had purchased the motorcycle and had not built up enough equity to make the forfeiture worth the state's efforts.
Reyna did not return phone messages for comment. His first assistant, Michael Jarrett, declined comment, saying he could not discuss pending matters.
Waco Assistant Police Chief Robert Lanning said the city initially bought covers for the motorcycles at $90 each to protect them while in storage. They since have been placed in shipping containers. The city already had one but bought another one for $2,500 in which to store the bikes, Lanning said.
"We have to maintain them just like they were on the day they were seized," Lanning said.
The vehicles normally would be racking up huge storage fees. But, Lanning said, vehicles involved in forfeiture cases are not subject to daily impound fees.
Attorneys for bikers whose vehicles have been seized say the pending criminal cases — first-degree felonies that carry a maximum life prison term — certainly take priority over the civil forfeiture cases. And as long as they are not hearing anything now about either case, there is no need to stir the pot, the attorneys say.
"There is nothing really going on right now. I like it just laying there for a while. I am perfectly fine with that," said Toby Shook, a Dallas attorney who represents Dallas County Bandidos president David Martinez in the civil and criminal cases.
Attorneys said they have received six rounds of discovery from the DA's office, which reports it still is not ready to proceed to trial because DNA, cellphone analysis and other evidence still is being evaluated.
The pending forfeiture case is just another element of an already stressful and frustrating situation, said Houston attorney Abigail Anastasio, who represents biker Ray Nelson.
'A hardship'
"The seizure has been very much so a hardship on him," she said. "We can get it back but I don't want any civil proceeding to affect the criminal case. That is an issue. So it could be years before he gets his bike back, and at that time, it will have depreciated in value and it is important to him. Those bikes are a big part of these guys' lives. It is crazy that they seized all of these bikes."
John Wilson, owner of Legends Cycle Shop and president of the McLennan County Cossacks chapter, said it is hard to know what is happening with the cases because his lawyer can't get anyone in the DA's office to call him back.
A 2013 Harley that Wilson was riding and a 2012 Harley his son, Jacob, was riding that day both were seized and are part of the civil forfeiture proceedings.
"It was just one more pebble in the sack," Wilson said of the forfeiture cases. "It has added to the expense and trouble. They don't have anything I can be convicted for. I haven't done anything wrong. You have 150 or so people that is probably the case with. They are just trying to protect themselves from lawsuits and are putting off the criminal case as long as possible because they can't try the civil cases until after the criminal cases are disposed of."
Related Articles
Elk Hunt
Fly Fishing Guide
Silver Stock
Biker News
Disclaimer: The opinions in this article are solely those of the writer, and may not reflect the beliefs of anyone at the Biker News Network/Outlaw Biker World. This site may contain copyrighted material the use of which has not always been specifically authorized by the copyright owner. We are making such material available in our efforts to advance understanding of political, human rights, economic, democracy, and social justice issues, etc. We believe this constitutes a 'fair use' of any such copyrighted material as provided for in section 107 of the US Copyright Law. In accordance with Title 17 U.S.C. Section 107, the material on this site is distributed without profit to those who have expressed a prior interest in receiving the included information for research and educational purposes. If you wish to use copyrighted material from this site for purposes of your own that go beyond 'fair use', you must obtain permission from the copyright owner. If you believe that your copyrighted work has been copied in a way that constitutes copyright infringement and is accessible on this site or through this service, you may notify our copyright agent, as set forth in the Digital Millennium Copyright Act of 1998 (DMCA). For your complaint to be valid under the DMCA, it must meet certain criteria, and you must Click Here to contact acting agent.
Who's new
WayneNella7

Junebug72

Devilstar

brianmikenusker...

Tyrsson
Who's online
There are currently 0 users online.