New Hells Angels support club growing in Cambridge
Submitted by

THUMPERRRR

on Wed, 09/21/2016 - 8:48pm
WATERLOO REGION — A support club for the biker gang Hells Angels has a chapter in Cambridge.
The affiliated biker gang is known as the Stolen Souls Motorcycle Club, Cambridge chapter, said Staff Sgt. Eugene Fenton, head of intelligence for Waterloo Regional Police.
The gang has 13 members and its membership is climbing, Fenton said.
"They are relatively new and came out on the scene about two years ago," he said.
It started with about eight members, then 10 last year and this year police believe there are 13.
And that's disturbing because the group, also known as a "puppet" club, is associated to the stronger and notorious criminal organization of the Hells Angels.
"They attend their events, field days and other provincial and national events," Fenton said.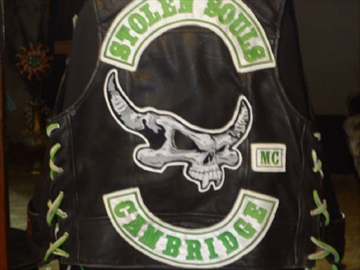 Stolen Souls
SYSTEM
The patch of Stolen Souls Motorcycle Club in Cambridge.
"It's well established that the Hells Angels are a criminal organization worldwide and the Stolen Souls supports their organization," Fenton said.
"There presence in the region is of concern and they are monitored by police," he said.
The Kitchener area has been a stronghold for biker gangs and Kitchener has a chapter of the Hells Angels. It has 21 full-fledge patch members.
"It's one of the stronger clubs in the province that has endured," Fenton said.
Fenton said the Hells Angels clubhouse is still located on Weber Street West, near Blucher Street, in Kitchener.
When it comes to outlaw biker gangs, there is a clear hierarchy and a chain of command.
A puppet gang is made up of men who are sponsored by the Hells Angels to insulate gang members from criminal prosecution.
A "hang around" is under a prospect member and undergoes a strict probationary period.
It's not uncommon that local members can live in nearby cities or communities and those members of other clubs in London or Hamilton can live in the region.
Police monitor biker gangs involved in trafficking of illicit drugs such as heroin, cocaine, crystal methamphetamine, ecstasy and marijuana.
Ontario Provincial Police have a biker enforcement unit, with officers across the province. An officer with Waterloo Regional Police is part of the provincial unit.
When it comes to outlaw biker gangs, Waterloo Region has a long history.
Kitchener was home to Satan's Choice, which was absorbed under the massive Hells Angels "patch over" in December 2000. The expansion into Ontario was the result of turf wars with other rival biker gangs.
Locally, the Satan's Choice in Kitchener was one of the five founding chapters in Ontario and a group established in the region since 1965.
During the mass conversion, Andre Watteel of Cambridge, the region's best-known career biker, was heavily involved in negotiations and went on to become president of the local chapter of the Hells Angels.
Watteel has long been considered an influential member of the local chapter with influence across the province. In 2011, he was sentenced to four and half years in prison for drug trafficking.
Fenton said Watteel is still in the region and "we have no information to believe he's out of the program."
His son-in-law, Larry Chaves, remains in prison after being sentenced in 2013 to nine years for trafficking in cocaine.
Chaves was the primary target in a year-long probe in Ontario and Newfoundland that led to the seizure of cocaine with an estimated street value of $5 million.
His suburban home was raided in November 2011 and police seized a kilogram of cocaine along with $43,000 in cash.
The key to the case was an informant turned undercover police agent who did business with Chaves to gather evidence against him.
Related Articles
Elk Hunt
Fly Fishing Guide
Silver Stock
Biker News
Disclaimer: The opinions in this article are solely those of the writer, and may not reflect the beliefs of anyone at the Biker News Network/Outlaw Biker World. This site may contain copyrighted material the use of which has not always been specifically authorized by the copyright owner. We are making such material available in our efforts to advance understanding of political, human rights, economic, democracy, and social justice issues, etc. We believe this constitutes a 'fair use' of any such copyrighted material as provided for in section 107 of the US Copyright Law. In accordance with Title 17 U.S.C. Section 107, the material on this site is distributed without profit to those who have expressed a prior interest in receiving the included information for research and educational purposes. If you wish to use copyrighted material from this site for purposes of your own that go beyond 'fair use', you must obtain permission from the copyright owner. If you believe that your copyrighted work has been copied in a way that constitutes copyright infringement and is accessible on this site or through this service, you may notify our copyright agent, as set forth in the Digital Millennium Copyright Act of 1998 (DMCA). For your complaint to be valid under the DMCA, it must meet certain criteria, and you must Click Here to contact acting agent.
Who's new
6Supermario9

jtourche00

hdbiker

Muck OnePercenter

Grizzly0208
Who's online
There is currently 1 user online.