Biker gang Bandidos under fire, justice ministry calls for a ban
Submitted by

THUMPERRRR

on Tue, 11/15/2016 - 7:46am
The public prosecution department is making yet another effort to have a motorbike gang banned, saying the organisation is a threat to public order.
Having failed several times to win a ban in the criminal courts, the department is now attempting to have the Bandidos biker gang ruled illegal in civil law. If successful, the department hopes to extend the ban to other motorbike clubs, the Telegraaf reported.
'We have been using the criminal justice system to combat biker gangs for some time, but that approach has limits,' spokesmann Oebele Brouwer told the paper. 'You can only tackle individual members. But by using civil law we can ban the entire organisation.'
The department says the arrival of the Bandidos in the Netherlands in 2014 has led to an increase in violent attacks, fights and shooting incidents.
'Members are involved in trading drugs and weapons, intimidation and blackmail,' said Brouwer. 'In addition, its rivalry with other clubs leads to fights and a threat to public order and safety.'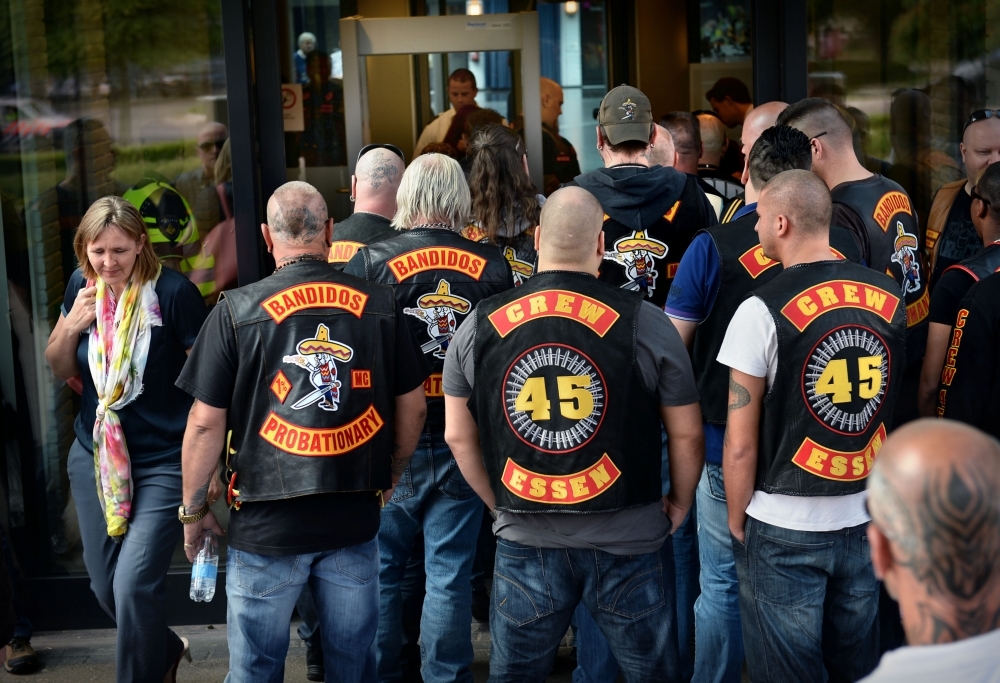 Members of the gang outside a court in 2014. Photo: Marcel van den Bergh/HH
The public prosecution department made several efforts to ban biker gangs between 2007 and 2009 by arguing they were criminal organisations. However, every court case failed.
Related Articles
Elk Hunt
Fly Fishing Guide
Silver Stock
Biker News
Disclaimer: The opinions in this article are solely those of the writer, and may not reflect the beliefs of anyone at the Biker News Network/Outlaw Biker World. This site may contain copyrighted material the use of which has not always been specifically authorized by the copyright owner. We are making such material available in our efforts to advance understanding of political, human rights, economic, democracy, and social justice issues, etc. We believe this constitutes a 'fair use' of any such copyrighted material as provided for in section 107 of the US Copyright Law. In accordance with Title 17 U.S.C. Section 107, the material on this site is distributed without profit to those who have expressed a prior interest in receiving the included information for research and educational purposes. If you wish to use copyrighted material from this site for purposes of your own that go beyond 'fair use', you must obtain permission from the copyright owner. If you believe that your copyrighted work has been copied in a way that constitutes copyright infringement and is accessible on this site or through this service, you may notify our copyright agent, as set forth in the Digital Millennium Copyright Act of 1998 (DMCA). For your complaint to be valid under the DMCA, it must meet certain criteria, and you must Click Here to contact acting agent.
Who's new
WayneNella7

Junebug72

Devilstar

brianmikenusker...

Tyrsson
Who's online
There are currently 0 users online.