You are here
Home
›
1%er News
› Two very different events brought hundreds of bikers to Kelowna on the weekend ›
Two very different events brought hundreds of bikers to Kelowna on the weekend
Submitted by

THUMPERRRR

on Mon, 09/25/2017 - 4:51pm
KELOWNA – Hundreds of bikers were on the streets of Kelowna this past weekend for two very different kinds of events.
The Salvation Army held their annual Motorcycle Toy Run Sunday, with 127 volunteers riding in formation from Kelowna to Lake Country and back. This is the 32nd year the Salvation Army has brought the ride to Kelowna.
Bikers from across the province were also in Kelowna last weekend for the Hells Angels annual Poker Run.
Cpl. Jesse O'Donaghey confirmed out-of-town bikers, many showing the colours of outlaw biker gangs, were in Kelowna for an annual competition where players collect a card at several checkpoints. Prizes are awarded to players with the best poker hands at the end of the event.
One neighbour says more than 100 bikes were parked outside 871 Ellis St. Saturday night. She worried that the increased presence was related to the murder of a rival gang founder in Kamloops late last week. 
O'Donaghey says the event is legal and there were no incidents.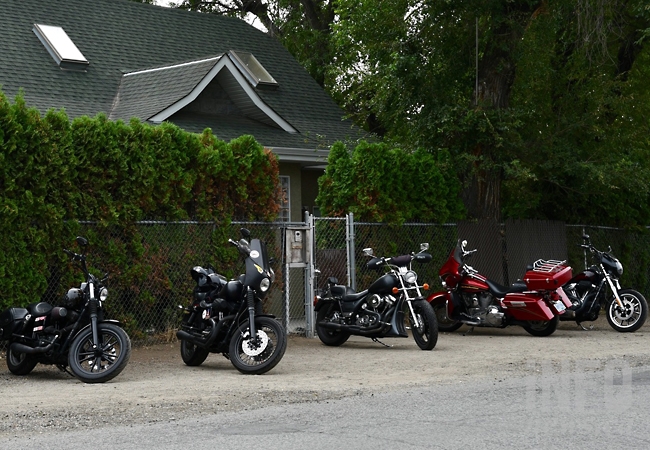 The Hells Angels clubhouse on Ellis Street was a stop on an annual poker run.
Image Credit: SUBMITTED
Justice Barry Davies describes the Hells Angel's clubhouses in B.C. as "safe havens" used to plan and commit crimes, and the Kelowna property has been a target of the civil forfeiture office since 2012.
A bid to quash the seizure was dismissed in February 2016 in a Vancouver courtroom, and forfeiture proceedings were expected to begin again in Vancouver this year.
According to their own website, there are ten Hells Angels' chapters in B.C.
Related Articles
Elk Hunt
Fly Fishing Guide
Silver Stock
Biker News
Disclaimer: The opinions in this article are solely those of the writer, and may not reflect the beliefs of anyone at the Biker News Network/Outlaw Biker World. This site may contain copyrighted material the use of which has not always been specifically authorized by the copyright owner. We are making such material available in our efforts to advance understanding of political, human rights, economic, democracy, and social justice issues, etc. We believe this constitutes a 'fair use' of any such copyrighted material as provided for in section 107 of the US Copyright Law. In accordance with Title 17 U.S.C. Section 107, the material on this site is distributed without profit to those who have expressed a prior interest in receiving the included information for research and educational purposes. If you wish to use copyrighted material from this site for purposes of your own that go beyond 'fair use', you must obtain permission from the copyright owner. If you believe that your copyrighted work has been copied in a way that constitutes copyright infringement and is accessible on this site or through this service, you may notify our copyright agent, as set forth in the Digital Millennium Copyright Act of 1998 (DMCA). For your complaint to be valid under the DMCA, it must meet certain criteria, and you must Click Here to contact acting agent.
Who's new
WayneNella7

Junebug72

Devilstar

brianmikenusker...

Tyrsson
Who's online
There are currently 0 users online.