You are here
Home
›
1%er News
› Former Canberra bikie boss sues for defamation over A Current Affair story ›
Former Canberra bikie boss sues for defamation over A Current Affair story
Submitted by

THUMPERRRR

on Wed, 09/27/2017 - 12:30pm
A former Canberra bikie boss is suing the Nine Network over a story about a father who joined the outlaw motorcycle club to "protect his daughter".Documents, filed in the ACT Supreme Court by Canberra law firm Aulich Civil Law, allege the television network's A Current Affair program, and reporter Steven Marshall, maliciously sensationalised the story to make Ali Bilal appear a danger to life.
Mr Bilal was the Rebels Outlaw Motorcycle Club ACT president when he began to date Chloe Pattman, the daughter of Canberra father Stephen Pattman, in 2011.In response, Mr Pattman joined the gang, where he climbed the ranks and became the president of a NSW chapter.
He handed in his colours in 2014 and is currently before the ACT Supreme Court for sentence after shooting at ex-clubmates in 2015.
A Current Affair broadcast the story, titled Undercover Dad, in July which portrayed Mr Pattman as a concerned father who had infiltrated the gang in a desperate bid to rescue his daughter.
Mr Bilal has since left the Rebels and is still with Mr Pattman's daughter.
The former bikie's statement of claim alleges the A Current Affair story had damaged his reputation as it conveyed "defamatory imputations"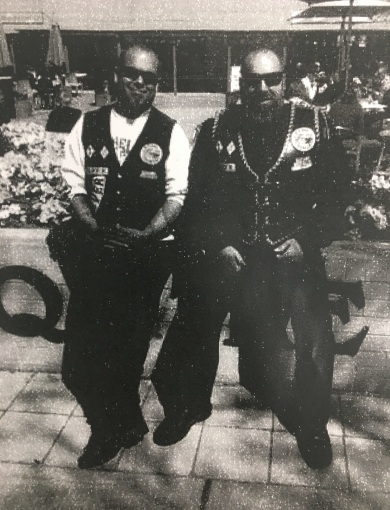 Stephen Pattman, left, in his days as a bikie with Houssam Haddad at Bungendore.
Mr Bilal says these include that he represented such a danger to the woman's life that her father had been driven to commit serious crime in a bid to rescue her; that he treated the woman as his personal possession; caused her to join the underworld; and ruined Mr Pattman's life and turned him into a criminal.
The lawsuit claims Nine Network Australia was also liable for the republication of the story online a further 13 times across a number of different platforms and media organisations.
"In consequence of the defendant's publications and the natural and probable republications of the story, [Mr Bilal] has been greatly injured in his credit, reputation, and occupation; and has been brought into public scandal, odium, and contempt," the lawsuit said.
Mr Bilal claimed aggravated and general damages as he alleges the imputations had been false; the Nine Network had failed or refused to removed after demands from his lawyers; and a failure or refusal to apologise for or retract the story, despite legal demands.
"The plaintiff claims aggravated damages by reason of … his knowledge of the defendants' express malice in publishing the matter, which malice includes their improper motives and ulterior purposes, including sensationalism."
A Nine spokesman said: "As the matter is before the courts we are unable to comment."
Related Articles
Elk Hunt
Fly Fishing Guide
Silver Stock
Biker News
Disclaimer: The opinions in this article are solely those of the writer, and may not reflect the beliefs of anyone at the Biker News Network/Outlaw Biker World. This site may contain copyrighted material the use of which has not always been specifically authorized by the copyright owner. We are making such material available in our efforts to advance understanding of political, human rights, economic, democracy, and social justice issues, etc. We believe this constitutes a 'fair use' of any such copyrighted material as provided for in section 107 of the US Copyright Law. In accordance with Title 17 U.S.C. Section 107, the material on this site is distributed without profit to those who have expressed a prior interest in receiving the included information for research and educational purposes. If you wish to use copyrighted material from this site for purposes of your own that go beyond 'fair use', you must obtain permission from the copyright owner. If you believe that your copyrighted work has been copied in a way that constitutes copyright infringement and is accessible on this site or through this service, you may notify our copyright agent, as set forth in the Digital Millennium Copyright Act of 1998 (DMCA). For your complaint to be valid under the DMCA, it must meet certain criteria, and you must Click Here to contact acting agent.
Who's new
Junebug72

Devilstar

brianmikenusker...

Tyrsson

SADDLEBUM
Who's online
There are currently 0 users online.