Police seize Head Hunters gang pad in Christchurch
Submitted by

THUMPERRRR

on Thu, 10/19/2017 - 6:24pm
Police have seized the Christchurch gang pad of the Head Hunters Motorcycle Club.
Under the Criminal Proceeds (Recovery) Act 2009, restraining orders were granted by the High Court at Christchurch in relation to motorcycles and residential properties, including the Vickerys Rd gang clubhouse.
The civil proceedings follow a police operation last year in which the Canterbury Police Organised Crime Unit charged who they allege are "key members" of the Head Hunters gang with organised crime and methamphetamine dealing offences, including senior figure Lyndon Richardson.
"We have a zero tolerance approach to gangs and criminals operating across Canterbury," said District Commander Superintendent John Price.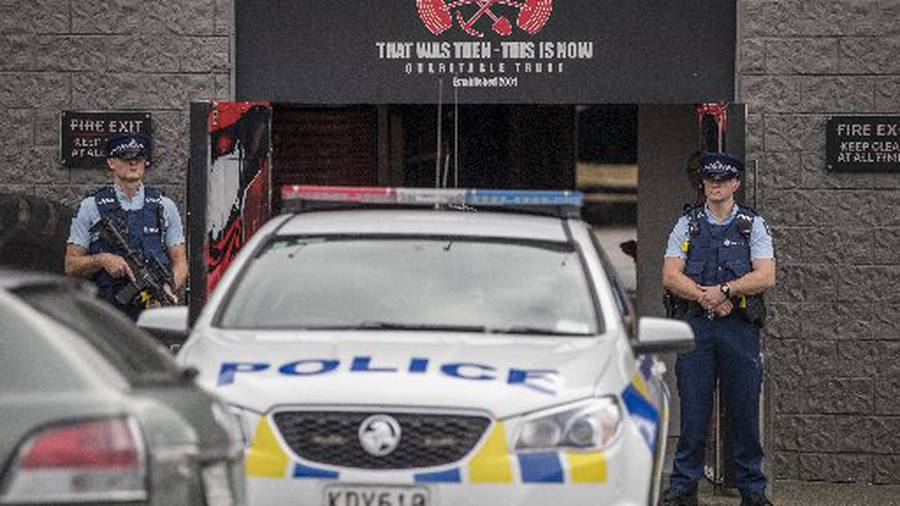 The Christchurch raid of the Head Hunters comes after a recent raid on the gang's Ellerslie clubrooms (pictured).
"Gangs drive organised crime across New Zealand and reducing the harm they cause to families and communities is a priority for Police, as demonstrated by today's proceedings."
Police raided the Sockburn gangpad this morning. One patched member was led away by police. Others wearing Head Hunters hoodies were seen outside the gated property with multiple security cameras while police were searching inside.
The Christchurch moves comes after the execution of search warrants and an extensive investigation into a senior member of the Head Hunters gang in Auckland recently. Police freezed $6 million of property from Head Hunters' 62-year-old boss Wayne Doyle.
Over the past three years, the Auckland-based Head Hunters have been specifically targeted in at least 12 police investigations across the country, the Herald earlier reported.
Guns, drugs, cars, and cash have been seized in Northland, Auckland, Tauranga, Rotorua, Wairarapa, Wellington, Nelson and Christchurch.
"The intention of the Criminal Proceeds (Recovery) Act 2009 is to disrupt, deter, and derail crime, especially in the areas of organised crime and methamphetamine offending," said Detective Superintendent Iain Chapman, National Manager Financial Crime Group.
"Our work in this area denies criminals the opportunity to either enjoy the benefits of offending or to reinvest those proceeds in further criminal activity."
Any assets ultimately forfeited are managed by the Ministry of Business, Innovation and Employment (MBIE). Money from that fund is then bid for by government agencies.
Given the investigation is ongoing, police say that no further information is available at this time.
Related Articles
Elk Hunt
Fly Fishing Guide
Silver Stock
Biker News
Disclaimer: The opinions in this article are solely those of the writer, and may not reflect the beliefs of anyone at the Biker News Network/Outlaw Biker World. This site may contain copyrighted material the use of which has not always been specifically authorized by the copyright owner. We are making such material available in our efforts to advance understanding of political, human rights, economic, democracy, and social justice issues, etc. We believe this constitutes a 'fair use' of any such copyrighted material as provided for in section 107 of the US Copyright Law. In accordance with Title 17 U.S.C. Section 107, the material on this site is distributed without profit to those who have expressed a prior interest in receiving the included information for research and educational purposes. If you wish to use copyrighted material from this site for purposes of your own that go beyond 'fair use', you must obtain permission from the copyright owner. If you believe that your copyrighted work has been copied in a way that constitutes copyright infringement and is accessible on this site or through this service, you may notify our copyright agent, as set forth in the Digital Millennium Copyright Act of 1998 (DMCA). For your complaint to be valid under the DMCA, it must meet certain criteria, and you must Click Here to contact acting agent.
Who's new
WayneNella7

Junebug72

Devilstar

brianmikenusker...

Tyrsson
Who's online
There are currently 0 users online.