Hells Angels making presence known
Submitted by

THUMPERRRR

on Fri, 11/03/2017 - 10:49am
Outlaw motorcycle gang has erected signage on the front of its new Simpson Street clubhouse and police say they are aware the criminal organization is branding itself, 11 years after it was taken down in Thunder Bay during Project Husky.
THUNDER BAY – After 11 years in the criminal hinterlands, the Hells Angels is making its presence known in Thunder Bay again.
The outlaw motorcycle gang has erected a large sign outside its Simpson Street clubhouse, located next to the Underground Gym in the rundown neighbourhood on the city's south side.
Thunder Bay Police Staff Sgt. Ryan Gibson says the organization has had a presence in Thunder Bay for quite some time, but after their former clubhouse was raided in 2006 during Project Husky, the local chapter was frozen.
Now it appears to be back in business.
"At the end of the day, like any other organized crime group, they're here for a specific reason and with them branding is important," Gibson said.
"What we see that's gone up is their death head sign on Simpson Street. And as we know, when people see the patch and see those things, there's a reason that's done with these criminal organizations, and that's obviously to facilitate the various criminal opportunities they're involved in."
While it might seem like a gang like the Hells Angels might want to operate under the radar, it's actually not the case, Gibson said.
Certainly they're not advertising any specific criminal activities they might be engaging in, but it does send a message to the community.
"When you see that patch, people know who they are," Gibson said. "That's what it's all about. They're sending a message to other competitors, to the general public that they mean business. They're here for a reason, and it's not a good one."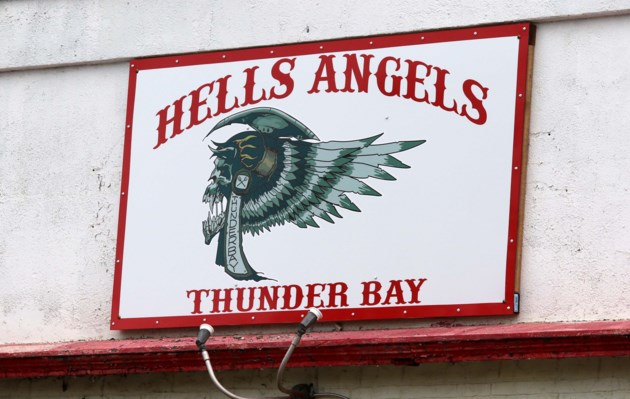 The Hells Angels have put out a sign announcing their presence on Simpson Street (Leith Dunick, tbnewswatch.com).
Project Husky was a two-year investigation that resulted in the arrest of five full Hells Angels members, on hanger-on and 21 associates of the motorcycle gang.
During the operation, a number of drug seizures, including cocaine, marijuana, percocets and oxycontin were seized, with a street value exceeding $2.3 million.
A total of 15 search warrants were executed on Jan. 18, 2006, resulting in the seizure of weapons, stolen property and cash.
Gibson was reluctant to say whether or not the local Hells Angels chapter has elevated its activities in recent months.
"But we're going to treat them like any other organized crime group. As far as activities increasing or decreasing, I wouldn't be able to comment on that."
Police also did not say how many active members are involved in the resurrection of the Thunder Bay chapter.
Related Articles
Elk Hunt
Fly Fishing Guide
Silver Stock
Biker News
Disclaimer: The opinions in this article are solely those of the writer, and may not reflect the beliefs of anyone at the Biker News Network/Outlaw Biker World. This site may contain copyrighted material the use of which has not always been specifically authorized by the copyright owner. We are making such material available in our efforts to advance understanding of political, human rights, economic, democracy, and social justice issues, etc. We believe this constitutes a 'fair use' of any such copyrighted material as provided for in section 107 of the US Copyright Law. In accordance with Title 17 U.S.C. Section 107, the material on this site is distributed without profit to those who have expressed a prior interest in receiving the included information for research and educational purposes. If you wish to use copyrighted material from this site for purposes of your own that go beyond 'fair use', you must obtain permission from the copyright owner. If you believe that your copyrighted work has been copied in a way that constitutes copyright infringement and is accessible on this site or through this service, you may notify our copyright agent, as set forth in the Digital Millennium Copyright Act of 1998 (DMCA). For your complaint to be valid under the DMCA, it must meet certain criteria, and you must Click Here to contact acting agent.
Who's new
WayneNella7

Junebug72

Devilstar

brianmikenusker...

Tyrsson
Who's online
There are currently 0 users online.