You are here
Home
›
1%er News
› Casinos to implement policies to monitor potential increased bike gang presence during Rally ›
Casinos to implement policies to monitor potential increased bike gang presence during Rally
Submitted by

THUMPERRRR

on Tue, 04/03/2018 - 2:51pm
DEADWOOD — Following a Feb. 16 request from law enforcement for the South Dakota Commission on Gaming to ban colors in casinos during the Sturgis Motorcycle Rally, based on reports that the Hell's Angels Motorcycle Gang would hold its 2018 national run in Deadwood at that time, the commission put the onus on the city of Deadwood and the individual gaming properties in coming up with a solution, tasking them with "taking the lead" on the matter. 
The term "colors" refers to the patches worn on vests and jackets noting the person's club affiliation.
Deadwood Gaming Association (DGA) Executive Director briefed the commission on the industry's response plan at the April 3 gaming commission meeting in Deadwood. 
 "We believe that the best path forward to keep Deadwood safe is for each individual property to have their security and management teams work with the city of Deadwood and its safety officials on proper safety planning that takes their unique properties into consideration. We do not believe there is a 'one solution fits all' approach that would be effective overall," said Rodman in a letter to South Dakota Commission on Gaming Executive Director Larry Eliason.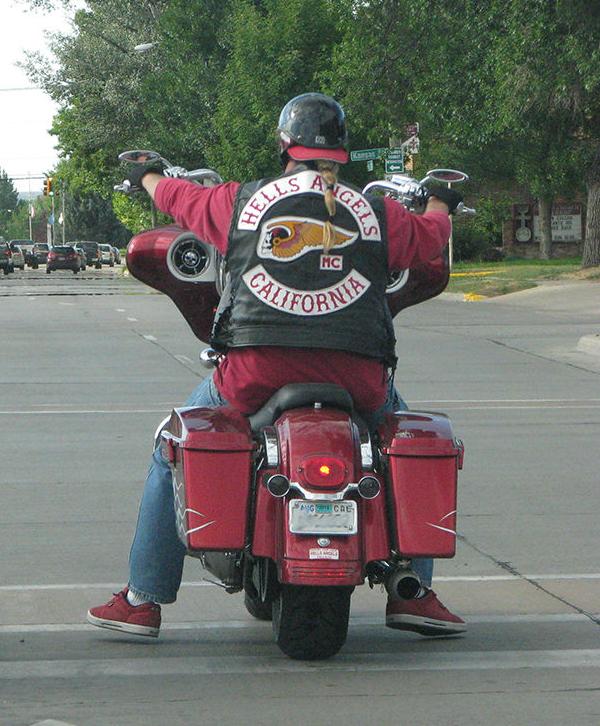 In August it is anticipated that the Hell's Angels will hold its national run in Deadwood. That news prompted the state gaming commission to task individual casinos to implement policies to monitor the group. Pioneer file photo
The letter was drafted in response to correspondence from Eliason requesting proposals from the city and the industry as to how they would proceed to comply with the commission's directive. 
Rodman then provided further follow-up.
"The industry responded to your request on controlling the activities of potentially nefarious motorcycle groups in Deadwood casinos and have implemented the following," Rodman said. 
The list includes a collaboration between the Deadwood Chamber, DGA, and the gaming commission to forward to the commission any questionable group inquiries for further vetting.
"We have also asked the industry's hotel sales managers to contact the commission for further vetting if they have a questionable group," Rodman said.
Earlier this year and the precipitating factor for gaming commission discussion, a bid for a block of several hotel rooms revealed that the request was made by the Hell's Angels.
Subsequently, the winning bidder, Cadillac Jack's, was contacted by Craig Sparrow, deputy executive director of the gaming commission's  enforcement division regarding an administrative rule that prohibits "catering to, assisting, employing, or associating with, either socially or in business affairs, persons of notorious or unsavory reputation or who have extensive police records, persons who have defied congressional investigative committees or other officially constituted bodies acting on behalf of the United States or any state, or persons who are associated with or support known criminal organizations."
Rodman explained that in deciding it would be best for each individual casino to develop its own policies in the matter, Chapter 20:18:09 (5) of the SDCG Rules and Regulations is focused primarily to protect the business interests and reputation of the industry.
"We take this matter seriously, however, to extrapolate this rule to include individual hotel and casino patrons becomes impractical to manage or enforce," Rodman said. "In meetings of the industry and city officials, both publicly and privately, we have determined that the best way forward for keeping the city of Deadwood, its residents, and visitors safe, is to have individual properties work with the city and its safety officials on proper safety planning that takes their uniqueness into consideration … we pledge to work with the city of Deadwood and this commission on safety preparedness training and planning in an effort to keep all of Deadwood safe."
Gaming commissioner Dennis McFarland said he agrees with the industry's move, but the commission would take a dim view if problems start arising at the casinos and the "One Percenters" are there and start the problem."
"I think the commission called everybody's attention to it because the Deadwood chief of police called it to our attention," McFarland said. "But the commission has to sit here and enforce the rule, so good luck. I don't envy your situation, but we've got to keep a lid on this thing."
"I hate to say to each his own, but to each his own," said Commissioner Mike Wordeman. "The commission isn't in operations and doesn't want to be."
"I hope a gun fight doesn't take place, but that's not on my watch," McFarland said. "My watch is your casinos."
The commission asked for a list of DGA member casinos that will and won't allow colors during the Rally.
Deadwood Police Chief Kelly Fuller said previously the wearing of colors and the increased numbers of Hell's Angels in the area is cause for concern.
"In a nutshell, we're discussing wearing colors in casinos, and the impact on public safety and the gaming industry," Fuller said. "Obviously, with the Hell's Angels national run being in Deadwood this year, we're expecting upwards of 500 patched Hell's Angels associates, which has led to public safety concerns for Deadwood."
Fuller said the run is slated to occur the week prior to the official start of the Rally.
Related Articles
Elk Hunt
Fly Fishing Guide
Silver Stock
Biker News
Disclaimer: The opinions in this article are solely those of the writer, and may not reflect the beliefs of anyone at the Biker News Network/Outlaw Biker World. This site may contain copyrighted material the use of which has not always been specifically authorized by the copyright owner. We are making such material available in our efforts to advance understanding of political, human rights, economic, democracy, and social justice issues, etc. We believe this constitutes a 'fair use' of any such copyrighted material as provided for in section 107 of the US Copyright Law. In accordance with Title 17 U.S.C. Section 107, the material on this site is distributed without profit to those who have expressed a prior interest in receiving the included information for research and educational purposes. If you wish to use copyrighted material from this site for purposes of your own that go beyond 'fair use', you must obtain permission from the copyright owner. If you believe that your copyrighted work has been copied in a way that constitutes copyright infringement and is accessible on this site or through this service, you may notify our copyright agent, as set forth in the Digital Millennium Copyright Act of 1998 (DMCA). For your complaint to be valid under the DMCA, it must meet certain criteria, and you must Click Here to contact acting agent.
Who's new
WayneNella7

Junebug72

Devilstar

brianmikenusker...

Tyrsson
Who's online
There are currently 0 users online.