Wild bikie brawl at Canberra strip club caught on camera
Submitted by

THUMPERRRR

on Thu, 07/05/2018 - 7:05am
(VIDEO) --- An unconscious bikie was kicked and punched by other gang members as he lay on the floor of a Canberra strip club during a wild Comanchero-on-Comanchero brawl.
About 100 members of the Comanchero Outlaw Motorcycle Club from across the country had been in the capital last August for the gang's 2017 memorial run.
Many of the members had congregated at the Capital Men's Club, in Fyshwick, on August 20 when the brawl started about 3am.
Paea Talakai, 27, of Loganlea, pleaded guilty in the ACT Magistrates Court on Thursday to affray for his part in the melee.
Another five alleged gang members are expected to appear before the court on similar charges next month.
Footage of the incident, played in court on Thursday, showed the fight started after an argument between a small group of men in the smokers area.
Punches were thrown and the fight spilt into a public section of the club, where dozens of Comanchero bikies had been drinking.
The fight then escalated to a wild brawl, with a number men pulling off their shirts to join in.
One man is knocked to the ground unconscious, where he is kicked and beaten by a number of gang members.
The man later regains his feet, only to be attacked again.
Meanwhile, another man is chased and repeatedly punched by a number of men, including Talakai.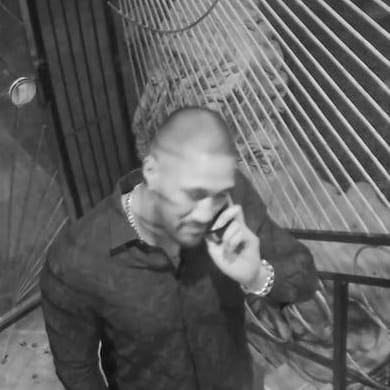 Paea Talakai, 27, speaks on the phone. He has pleaded guilty to affray in the ACT Magistrates Court after a wild bikie brawl in a Canberra strip club, the Capital Mens Club.
Photo: supplied
In the background, a bikie attempts to get hold of a glass bottle, before staff snatch it back and move all glassware out of arms length.
The brawl finally ends with a group of men leaving the club, but one last glass is hurled in their direction and hits a wall.
The footage shows Talakai - wearing a black business shirt - entered the fight after it had started, throwing a punch at one man, before removing his shirt and repeatedly attacking another.
Defence lawyer Adrian McKenna, in submissions, said his client accepted his conduct had been wrong.
Mr McKenna said the defendant had an "unenviable" criminal history, however, had abided by strict bail conditions, including not to associate with the gang, in Queensland since December.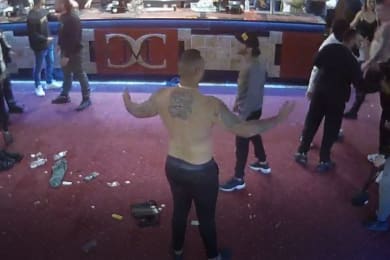 Paea Talakai, 27, gestures during a wild bikie brawl in a Canberra strip club, the Capital Mens Club. He has pleaded guilty to affray in the ACT Magistrates Court.
Photo: supplied
The court heard Talakai had sought counselling for issues with alcohol, anger management, anxiety, and depression.
Mr McKenna argued the conduct had been mid-to-high range offence, and submitted that a suspended jail term would be an appropriate sentence.
Prosecutor Anthony Williamson said the nature and intensity of the "extreme violence" pushed it into the most serious category.
Mr Williamson said the location - a strip club - may be taboo, but it was a lawful establishment and open to the adult public.
The prosecutor said staff at the club had every right to feel safe in their workplace.
Thursday's sentence hearing was abruptly adjourned after the the prosecution and defence disagreed on whether Talakai was a patched member of the gang.
Mr McKenna said his client was not a member, but had been at the club as a friend of a Comanchero.
However, Mr Williamson told the court the defendant had been observed wearing Comanchero clothing, which was not tolerated for non-members.
Magistrate Glenn Theakston stood the matter down until next week so further evidence could be put before the court.
Related Articles
Elk Hunt
Fly Fishing Guide
Silver Stock
Biker News
Disclaimer: The opinions in this article are solely those of the writer, and may not reflect the beliefs of anyone at the Biker News Network/Outlaw Biker World. This site may contain copyrighted material the use of which has not always been specifically authorized by the copyright owner. We are making such material available in our efforts to advance understanding of political, human rights, economic, democracy, and social justice issues, etc. We believe this constitutes a 'fair use' of any such copyrighted material as provided for in section 107 of the US Copyright Law. In accordance with Title 17 U.S.C. Section 107, the material on this site is distributed without profit to those who have expressed a prior interest in receiving the included information for research and educational purposes. If you wish to use copyrighted material from this site for purposes of your own that go beyond 'fair use', you must obtain permission from the copyright owner. If you believe that your copyrighted work has been copied in a way that constitutes copyright infringement and is accessible on this site or through this service, you may notify our copyright agent, as set forth in the Digital Millennium Copyright Act of 1998 (DMCA). For your complaint to be valid under the DMCA, it must meet certain criteria, and you must Click Here to contact acting agent.
Who's new
WayneNella7

Junebug72

Devilstar

brianmikenusker...

Tyrsson
Who's online
There are currently 0 users online.