Hell's Angels help out Calvert Hospice
Submitted by

THUMPERRRR

on Sat, 09/15/2018 - 6:02pm
Calvert Hospice recently received a $1,000 donation from the Hell's Angels Maryland Bike & Car Show, which was held in July at the Calvert County Fairgrounds in Prince Frederick.
The Hell's Angels Nomads MD chapter organized the family-friendly event, which featured a car and bike show, local entertainment, special visitors from out of town, food vendors including Cutty's BBQ and Captain Smith's seafood, and a live broadcast from Hawkeye from 97.7's The Rocket.
Special guest Rusty Coons from "Sons of Anarchy" attended and autographed photos.
Many members of the local chapter have been impacted by Calvert Hospice.
"Numerous members of our group have been touched by Calvert Hospice; this is why we chose Calvert Hospice," event organizer John Beal said.
"Seventeen years ago, Calvert Hospice cared for our grandmother," said Karen Horton, the wife of a Hell's Angels Nomads MD chapter member. "The day she passed, I called you all and asked, 'What do I do?' You said there's nothing else to do, you've done everything you're supposed to; now it's our turn to take over."
Hell's Angels Nomads MD chapter member Kevin Maloney helped with the groundbreaking and construction of the Burnett Calvert Hospice House.
The Hell's Angels Nomads MD chapter is hoping to make the show an annual event, with next year's event scheduled or July 13.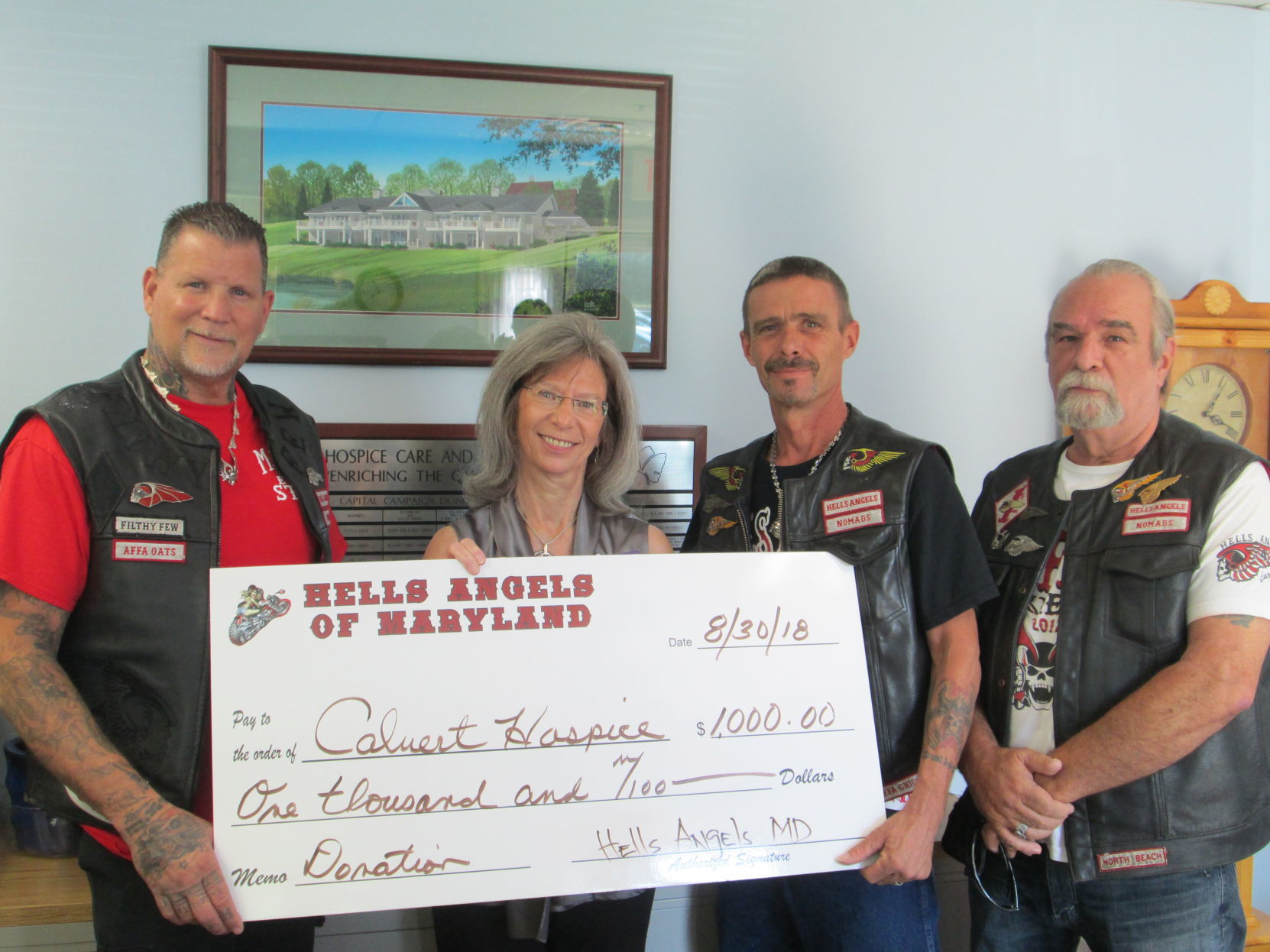 Calvert Hospice Executive Director Jean Fleming, second from left, accepts a $1,000 donation from Hell's Angels Nomads MD chapter John Beal, John Horton and Kevin Mahoney.
Related Articles
Elk Hunt
Fly Fishing Guide
Silver Stock
Biker News
Disclaimer: The opinions in this article are solely those of the writer, and may not reflect the beliefs of anyone at the Biker News Network/Outlaw Biker World. This site may contain copyrighted material the use of which has not always been specifically authorized by the copyright owner. We are making such material available in our efforts to advance understanding of political, human rights, economic, democracy, and social justice issues, etc. We believe this constitutes a 'fair use' of any such copyrighted material as provided for in section 107 of the US Copyright Law. In accordance with Title 17 U.S.C. Section 107, the material on this site is distributed without profit to those who have expressed a prior interest in receiving the included information for research and educational purposes. If you wish to use copyrighted material from this site for purposes of your own that go beyond 'fair use', you must obtain permission from the copyright owner. If you believe that your copyrighted work has been copied in a way that constitutes copyright infringement and is accessible on this site or through this service, you may notify our copyright agent, as set forth in the Digital Millennium Copyright Act of 1998 (DMCA). For your complaint to be valid under the DMCA, it must meet certain criteria, and you must Click Here to contact acting agent.
Who's new
WayneNella7

Junebug72

Devilstar

brianmikenusker...

Tyrsson
Who's online
There are currently 0 users online.