Misunderstood good guys or a real blight?
Submitted by

THUMPERRRR

on Fri, 09/28/2018 - 6:02pm
One of New Zealand's pre-eminent gang experts and the Leader of the Opposition are at odds over dealing with the festering gang menace in Tauranga.
Simon Bridges told The Weekend Sun this week he's concerned at gangs gaining a stronger foothold in Tauranga. He says he's genuinely disgusted and very angry.
"They must be stopped. We can't afford for gangs to become normalised in our city. What do we need to do to get rid of them?"
However, sociologist Dr Jarrod Gilbert, who immersed himself in gang culture for his PhD thesis and authored the authoritative 'Patched: The History of Gangs in New Zealand', says firebrand comments about gangs from the hustings have a long tradition in New Zealand.
"Norm Kirk threatened to take bikes off bikies before the '72 election. He didn't, but it got him elected. Politicians have learned that sort of rhetoric delivers their drug of choice, which is votes." The rhetoric from the opposition benches, he says, is altogether more difficult when they get into power.
Simon insists his assault on gangs isn't scaremongering or cheap political point-scoring. The crown prosecutor turned politician says he knows from his courtroom experience that gangs aren't "cuzzy motorcycle clubs".
"They're peddlers of misery."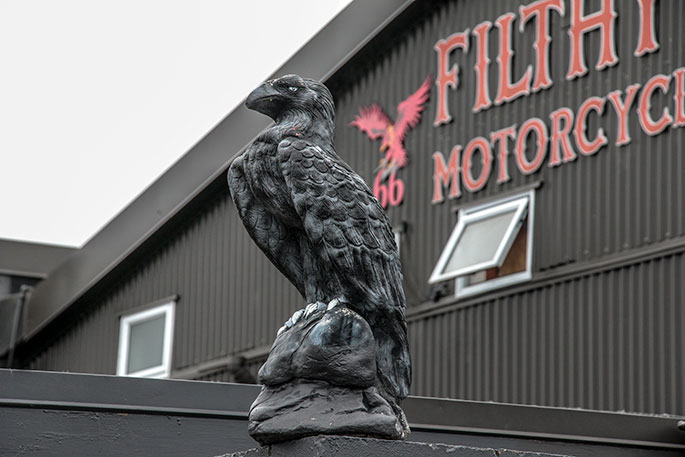 Filthy Few fortification – 'cuzzy club' or a blight on the city? Photo: Bruce Barnard.
Simon's strike back against the gangs has been prompted by what he believes is the proliferation of patches around town. Not a week goes by that he doesn't see the Filthy Few, Head Hunters or Greasy Dogs parading around the city on their bikes. And he doesn't like what he sees.
"They wear patches because they want to stand out; they want to make a statement which says 'you should fear us'. Intimidation is the sole purpose of the gang patch."
"If we see a Harley Davidson being ridden by a gang member down Cameron Road on Sunday afternoon we ask ourselves 'how was it paid for? And we know the answer. It didn't come out of his pay cheque; it didn't come out of his benefit; it wasn't a legitimate business transaction. It was drugs."
A Weekend Sun invitation to the Filthy Few Motorcycle Club to respond to Simon was delivered to the club fortification in industrial Judea this week. The club, which doesn't have a reputation for engaging with the media, hadn't responded by the time of going to print.
Jarrod says people have threatened the gangs; vowed to smash the gangs, crush the gangs and get rid of the gangs, and no one has succeeded. "The reasons are quite complex. But not least of which that the politicians who speak like that don't tend to understand the issue."
He believes people are right to be concerned about the growth of gangs and around certain gang activities such as drugs and violence.
"But the fact of the matter is while we have economic and social conditions that drive gang membership – that's not just a finding of my research, but research all around the world – then while we have those conditions, we will have gangs. That is a logical conclusion politicians would do well to hear."
Simon wasn't necessarily addressing Jarrod or his comments, but says there are some trendies out there who think the gangs are a bunch of misunderstood good guys who do sausage sizzles at the weekend.
"But they are absolutely not. They are inextricably linked to the methamphetamine trade, synthetic cannabis and the like."
Those drugs, he suspects, are coming through the Port of Tauranga. "Our port, our harbour, and it's quite possible Tauranga is the main gateway for those drugs entering New Zealand."
Jarrod says politicians have made promises about a magic bullet time and time again. And while Simon confesses to not having a magic bullet, he says we should certainly be having the conversation. "What do we need to stop the gang advance? What do we need to do to get rid of them? I am sure people will agree with me."
The Leader of the Opposition was a key player in the establishment of an organised crime squad in Tauranga. "But that's probably not enough anymore."
He says it's about getting tough on crime. And it all comes back to the basic problems – gangs.
The MP says he's genuinely concerned. "When I moved to Tauranga in 2001 there was just a handful of gangs. Now we are seeing the Auckland style of gangs like the Head Hunters. And much worse, Aussie ones like the Comancheros."
Perfectly legitimate concerns to hold, says Jarrod. "But to say you want to crush them or get rid of them or stop them, well it's not as easy as that. These gangs have been around for generations and have defied political rhetoric for all of that time and I think the public will recognise that."
Simon doesn't believe there can be any debate about the rise of the gangs in the city. "They are now so palpably visible. Again, there will be trendies out there with theories on why gang patches are fine and gang members are just harmless fellows. Well, it's rubbish. The gangs genuinely anger me."
Related Articles
Elk Hunt
Fly Fishing Guide
Silver Stock
Biker News
Disclaimer: The opinions in this article are solely those of the writer, and may not reflect the beliefs of anyone at the Biker News Network/Outlaw Biker World. This site may contain copyrighted material the use of which has not always been specifically authorized by the copyright owner. We are making such material available in our efforts to advance understanding of political, human rights, economic, democracy, and social justice issues, etc. We believe this constitutes a 'fair use' of any such copyrighted material as provided for in section 107 of the US Copyright Law. In accordance with Title 17 U.S.C. Section 107, the material on this site is distributed without profit to those who have expressed a prior interest in receiving the included information for research and educational purposes. If you wish to use copyrighted material from this site for purposes of your own that go beyond 'fair use', you must obtain permission from the copyright owner. If you believe that your copyrighted work has been copied in a way that constitutes copyright infringement and is accessible on this site or through this service, you may notify our copyright agent, as set forth in the Digital Millennium Copyright Act of 1998 (DMCA). For your complaint to be valid under the DMCA, it must meet certain criteria, and you must Click Here to contact acting agent.
Who's new
WayneNella7

Junebug72

Devilstar

brianmikenusker...

Tyrsson
Who's online
There are currently 0 users online.