Bandidos ride into town for their very own Christmas party
Submitted by

THUMPERRRR

on Fri, 11/23/2018 - 9:09am
Bandidos bikies from across the country have converged on Melbourne for the club's national run.
A club insider claimed up to 500 bikes will roar through the city as part of the annual run, which left Bendigo on Friday morning for an all weekend party in Melbourne's south-east.
One associate described the run as the club's very own Christmas party.
"This is what we do. It's the brotherhood," he said.
The run, which involves the club's major figureheads including president Jason Addison, is being closely monitored by police.
Bandidos bikies set off to Melbourne.Credit:The Age
"[We] will take swift action to detect and disrupt any outlaw motorcycle gang (OMCGs) members who commit crimes, road safety or public order offences," a Victoria police spokeswoman said.
"We are always gathering intelligence with regards to the activities of persons engaged in criminal activity, including those persons who may also be associated with OMCGs.
"Our monitoring of OMCGs permits us to respond in an appropriate fashion if and when any risk of violence is anticipated.
The club, which was formed in the US, established itself in Australia in 1983 after a group split from another club, the Comancheros.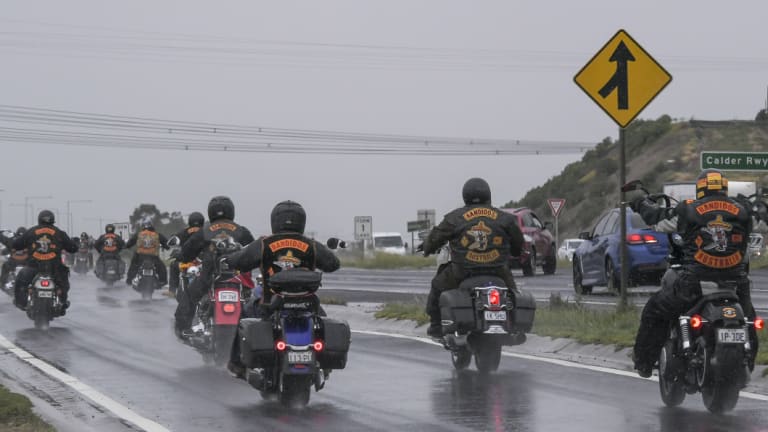 Bandidos national run. Credit:The Age
That split lead to the notorious Milperra massacre, where the two clubs clashed in a shootout that left seven people dead, including a 14-year-old girl, the Bandidos' vice-president, the Comancheros' vice-president and serjeant-at-arms.
While a Bandidos associate said the wider community has a misconception that the club is made up of criminals, authorities say they are a well-organised gang that causes harm across the country.
Related Articles
Elk Hunt
Fly Fishing Guide
Silver Stock
Biker News
Disclaimer: The opinions in this article are solely those of the writer, and may not reflect the beliefs of anyone at the Biker News Network/Outlaw Biker World. This site may contain copyrighted material the use of which has not always been specifically authorized by the copyright owner. We are making such material available in our efforts to advance understanding of political, human rights, economic, democracy, and social justice issues, etc. We believe this constitutes a 'fair use' of any such copyrighted material as provided for in section 107 of the US Copyright Law. In accordance with Title 17 U.S.C. Section 107, the material on this site is distributed without profit to those who have expressed a prior interest in receiving the included information for research and educational purposes. If you wish to use copyrighted material from this site for purposes of your own that go beyond 'fair use', you must obtain permission from the copyright owner. If you believe that your copyrighted work has been copied in a way that constitutes copyright infringement and is accessible on this site or through this service, you may notify our copyright agent, as set forth in the Digital Millennium Copyright Act of 1998 (DMCA). For your complaint to be valid under the DMCA, it must meet certain criteria, and you must Click Here to contact acting agent.
Who's new
WayneNella7

Junebug72

Devilstar

brianmikenusker...

Tyrsson
Who's online
There are currently 0 users online.