Hells Angels biker cleared of Hastings assault
Submitted by

THUMPERRRR

on Fri, 01/25/2019 - 9:51pm
A Hells Angels biker has been acquitted of partially blinding another man in an attack after a jury in his second trial also failed to reach a verdict.
Matthew Barnes, 48, denied causing grievous bodily harm with intent in the attack outside a Hastings pub in February 2016.
A formal not guilty verdict was entered by the court after the prosecution said it would not seek a re-trial.
A jury had also been dismissed following a trial in August last year.
Mr Barnes, the president of the Sussex chapter of the Hells Angels, was accused of partially blinding Christopher Harrison after he refused to join the club.
Oliver Wilkinson, 50, of St Leonards-on-Sea was acquitted of the same charge following the first trial.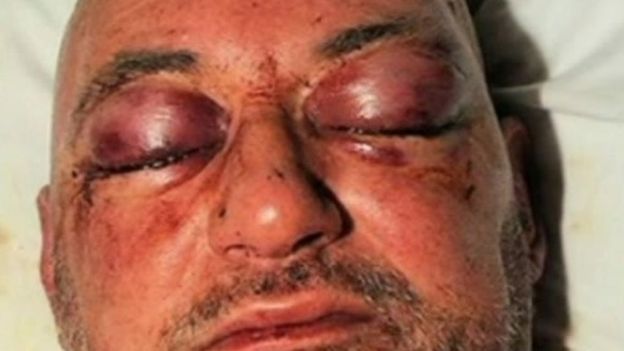 Image caption
 Christopher Harrison suffered serious eye injuries
Related Articles
Elk Hunt
Fly Fishing Guide
Silver Stock
Biker News
Disclaimer: The opinions in this article are solely those of the writer, and may not reflect the beliefs of anyone at the Biker News Network/Outlaw Biker World. This site may contain copyrighted material the use of which has not always been specifically authorized by the copyright owner. We are making such material available in our efforts to advance understanding of political, human rights, economic, democracy, and social justice issues, etc. We believe this constitutes a 'fair use' of any such copyrighted material as provided for in section 107 of the US Copyright Law. In accordance with Title 17 U.S.C. Section 107, the material on this site is distributed without profit to those who have expressed a prior interest in receiving the included information for research and educational purposes. If you wish to use copyrighted material from this site for purposes of your own that go beyond 'fair use', you must obtain permission from the copyright owner. If you believe that your copyrighted work has been copied in a way that constitutes copyright infringement and is accessible on this site or through this service, you may notify our copyright agent, as set forth in the Digital Millennium Copyright Act of 1998 (DMCA). For your complaint to be valid under the DMCA, it must meet certain criteria, and you must Click Here to contact acting agent.
Who's new
WayneNella7

Junebug72

Devilstar

brianmikenusker...

Tyrsson
Who's online
There are currently 0 users online.