Hells Angels in trademark fight with online store
Submitted by

THUMPERRRR

on Tue, 05/14/2019 - 8:05am
The Hells Angels are fighting to restrict what a T-shirt website can sell after being awarded nominal damages following a years-long legal battle over copyright and trademark infringement.
Lawyers for the Australian arm of the bikie organisation and website Redbubble, which sells "user-submitted artwork" on items like T-shirts and coffee mugs, appeared in the Federal Court in Brisbane on Monday.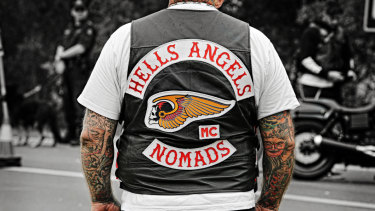 The judge is considering submissions in the long-running legal dispute between the Hells Angles and Redbubble.Credit:Paul Rovere
The bikie organisation has been locked in a legal battle with the website since 2015 when the Hells Angels took Redbubble to court over a number of t-shirts advertised on the site.
The Hells Angels claimed the designs, some of which included their flying skull logo, breached copyright and infringed on their trademark.
In March, a judge found their copyright case had failed.
However, a trademark infringement claim was made out for a number of T-shirt designs advertised on the site.
The highest selling T-shirt that included the designs sold just two units while one example featuring a design did not sell according to the judgment.
The Hells Angels were awarded $5000 in nominal damages.
On Monday, lawyers for the Hells Angles told the court they were seeking an injunction on the sale of items related to their trademark.
Lawyers for Redbubble said the site "errs strongly on the side of caution" when removing material that could infringe on trademarks or copyright.
The case adjourned on Monday for the judge to consider submissions made.
Related Articles
Elk Hunt
Fly Fishing Guide
Silver Stock
Biker News
Disclaimer: The opinions in this article are solely those of the writer, and may not reflect the beliefs of anyone at the Biker News Network/Outlaw Biker World. This site may contain copyrighted material the use of which has not always been specifically authorized by the copyright owner. We are making such material available in our efforts to advance understanding of political, human rights, economic, democracy, and social justice issues, etc. We believe this constitutes a 'fair use' of any such copyrighted material as provided for in section 107 of the US Copyright Law. In accordance with Title 17 U.S.C. Section 107, the material on this site is distributed without profit to those who have expressed a prior interest in receiving the included information for research and educational purposes. If you wish to use copyrighted material from this site for purposes of your own that go beyond 'fair use', you must obtain permission from the copyright owner. If you believe that your copyrighted work has been copied in a way that constitutes copyright infringement and is accessible on this site or through this service, you may notify our copyright agent, as set forth in the Digital Millennium Copyright Act of 1998 (DMCA). For your complaint to be valid under the DMCA, it must meet certain criteria, and you must Click Here to contact acting agent.
Who's new
WayneNella7

Junebug72

Devilstar

brianmikenusker...

Tyrsson
Who's online
There are currently 0 users online.