Senior Brisbane bikies charged with shooting man in face over debt
Submitted by

THUMPERRRR

on Mon, 12/23/2019 - 6:56am
Two high-ranked north Brisbane Bandidos motorcycle gang members have been charged with attempted murder after a man was shot in the face and shoulder over a debt.
The gang's president and sergeant-at-arms were arrested and police also found handguns, a sawn-off rifle, ammunition, fake IDs, drugs and gang paraphernalia during two raids on Sunday.
It will be alleged the 45-year-old Samsonvale man and 29-year-old Morayfield man were involved in shooting a 37-year-old man at Samsonvale, almost 30 kilometres north-west of Brisbane, on July 13.
The victim's injuries were serious and he needed surgery at Redcliffe Hospital.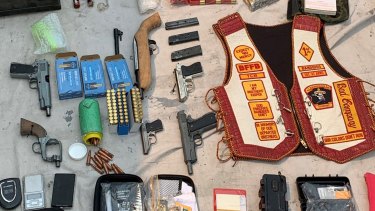 The weapons and paraphernalia seized during the raids in the Moreton Bay region.Credit:Queensland Police Service
Police will allege the pair lured two others to a location in July, where the 45-year-old "shot the victim in the chin and the bullet went into his shoulder", Detective Superintendent Roger Lowe told media on Monday.
Following an extensive investigation which began in July, state gangs detectives, State Emergency Service volunteers and Australian Federal Police officers raided properties at Caboolture and Samsonvale on Sunday.
Detective Superintendent Lowe said the "extensive search" of the rural Samsonvale property, which involved 62 SES volunteers, was carried out over 12 hours.
On the property, police allegedly found five pistols, a sawn-off rifle, drugs, parts believed to be used to manufacture other guns, fake IDs and paraphernalia including vests linking the two to their roles in the Bandidos Northside chapter.
It will also be alleged cannabis, Bandidos paraphernalia and a vehicle used in the shooting were seized during the Caboolture search and the vehicle was taken away for forensic testing.
Detective Superintendent Lowe added that more charges were likely to come once police fully understood the "extent of the crimes" the Samsonvale property was involved with.
He said there were security and safety concerns for the shooting victim and his family.
A 45-year-old man was charged with attempted murder, and dangerous conduct with a weapon likely to cause death. He was due to appear in Brisbane Magistrates Court on Monday.
A 29-year-old man was also charged with attempted murder. He was scheduled to appear via video link in Maryborough Magistrates Court on Monday.
In addition, a 25-year-old man was given a notice to appear in court in relation to cannabis at the Caboolture property.
A 21-year-old Samsonvale woman was also charged with possessing dangerous drugs, possessing restricted drugs, possessing tainted property, possessing a category M weapon and possess explosives (ammunition). She was due to appear in Pine Rivers Magistrates Court on February 3.
Detective Superintendent Lowe said outlaw motorcycle gangs were not enthusiasts who organised meetings for a good time.
"Taskforce Maxima will continue to work hard to dismantle this particular gang and linked criminal network," he said.
"As police, we continually hear the personal stories of individuals who have been associated and recruited to these gangs and live to regret their choice.
"They find the real truth of these gangs involves threats, violence, crime, paranoia and the associated personal costs."
Related Articles
Elk Hunt
Fly Fishing Guide
Silver Stock
Biker News
Disclaimer: The opinions in this article are solely those of the writer, and may not reflect the beliefs of anyone at the Biker News Network/Outlaw Biker World. This site may contain copyrighted material the use of which has not always been specifically authorized by the copyright owner. We are making such material available in our efforts to advance understanding of political, human rights, economic, democracy, and social justice issues, etc. We believe this constitutes a 'fair use' of any such copyrighted material as provided for in section 107 of the US Copyright Law. In accordance with Title 17 U.S.C. Section 107, the material on this site is distributed without profit to those who have expressed a prior interest in receiving the included information for research and educational purposes. If you wish to use copyrighted material from this site for purposes of your own that go beyond 'fair use', you must obtain permission from the copyright owner. If you believe that your copyrighted work has been copied in a way that constitutes copyright infringement and is accessible on this site or through this service, you may notify our copyright agent, as set forth in the Digital Millennium Copyright Act of 1998 (DMCA). For your complaint to be valid under the DMCA, it must meet certain criteria, and you must Click Here to contact acting agent.
Who's new
WayneNella7

Junebug72

Devilstar

brianmikenusker...

Tyrsson
Who's online
There are currently 0 users online.