Weapons, drugs seized after Yates chase
Submitted by

THUMPERRRR

on Mon, 01/06/2020 - 7:29am
PENN YAN — Police seized a substantial amount of weapons, drugs and money following a high-speed chase early Thursday morning in which a suspected gang member allegedly drove through a farmer's field, an electric fence and hit a barn before he was captured.
Bradley Zadul, 39, of Niagara Falls, was charged with aggravated criminal possession of a weapon, second-degree criminal possession of a weapon, criminal use of a firearm, criminal use of drug paraphernalia, resisting arrest, and unlawfully fleeing a police officer.
Penn Yan Police Chief Thomas Dunham said Zadul could face more charges after bags of suspected methamphetamine and marijuana are tested.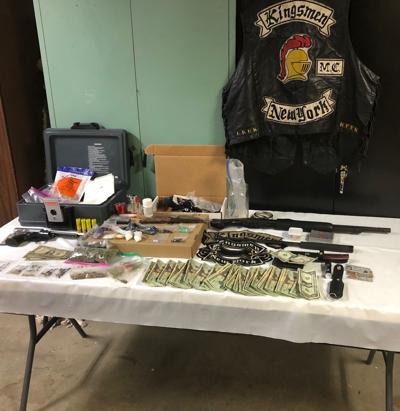 Penn Yan police seized weapons, drugs and cash following a high-speed chase early Thursday morning in Yates County.
Submitted photo
Dunham said the incident started about 2:30 a.m., when police saw Zadul leaving a suspected drug location in Penn Yan. Officers stopped Zadul for driving an uninspected vehicle, but Dunham said Zadul sped away while officers were approaching his vehicle.
Officers pursued Zadul through the village and onto Buckle Road in Benton, where he allegedly drove through a farmer's field and an electric fence. The vehicle hit a barn before going into a ditch.
Dunham said Zadul tried to flee on foot, but was Tasered by a Yates County deputy. He was taken into custody as were two passengers, Charles Buchanan, 38, of Penn Yan and Jessica Owen, 31, of Florida.
While frisking Zadul, Dunham said police founded a loaded handgun in his waistband and a large knife. Police later found a sawed-off shotgun in the vehicle that had the serial number defaced, along with several bags of suspected meth and marijuana.
Police impounded the vehicle and allegedly found another gun, numerous bags of marijuana seeds, more than $1,100 in cash, a baton, knives, and other drug paraphernalia.
Dunham said Zadul appears to be a member of the Kingsmen Motorcycle Club, which federal officials have called a criminal organization engaged in such crimes as distribution of drugs, sale of weapons, and promoting prostitution. The group also has been tied to murders in Western New York.
Dunham said local police found a full Kingsmen vest in Zadul's vehicle, along with numerous Kingsmen patches. The chief added that Zadul, a convicted felon, cannot legally have weapons.
Buchanan and Owen also were arrested on weapons charges. They were arraigned at the Yates County Jail, with Buchanan remanded in lieu of $5,000 bail or $10,000 bond, and Owen in lieu of $10,000 bail or $20,000 bond.
Zadul was remanded without bail.
Dunham said police do not know the connection between Zadul and Buchanan, but said Zadul was apparently going to take Buchanan to the Cattaraugus Reservation. Dunham believes Owen is the girlfriend of Zadul, who used to live in Florida.
"We have been talking to them, but we don't think they are telling us the truth," Dunham said. "It was good to get these people off the streets."
Related Articles
Elk Hunt
Fly Fishing Guide
Silver Stock
Biker News
Disclaimer: The opinions in this article are solely those of the writer, and may not reflect the beliefs of anyone at the Biker News Network/Outlaw Biker World. This site may contain copyrighted material the use of which has not always been specifically authorized by the copyright owner. We are making such material available in our efforts to advance understanding of political, human rights, economic, democracy, and social justice issues, etc. We believe this constitutes a 'fair use' of any such copyrighted material as provided for in section 107 of the US Copyright Law. In accordance with Title 17 U.S.C. Section 107, the material on this site is distributed without profit to those who have expressed a prior interest in receiving the included information for research and educational purposes. If you wish to use copyrighted material from this site for purposes of your own that go beyond 'fair use', you must obtain permission from the copyright owner. If you believe that your copyrighted work has been copied in a way that constitutes copyright infringement and is accessible on this site or through this service, you may notify our copyright agent, as set forth in the Digital Millennium Copyright Act of 1998 (DMCA). For your complaint to be valid under the DMCA, it must meet certain criteria, and you must Click Here to contact acting agent.
Who's new
WayneNella7

Junebug72

Devilstar

brianmikenusker...

Tyrsson
Who's online
There are currently 0 users online.