You are here
Home
›
1%er News
› Tauranga shootings: Armed police sent in to battle increasing violence in the city ›
Tauranga shootings: Armed police sent in to battle increasing violence in the city
Submitted by

THUMPERRRR

on Wed, 02/12/2020 - 5:48am
Armed officers dressed in body armour are about to hit the streets as police step up their response to increased gang rivalry and violent crime in Tauranga.
Police Minister Stuart Nash said the escalated response was a temporary measure aimed at tackling the latest flare-up between gangs. It also comes the day after two men where shot dead at a property in Omanawa.
"Expect to see police openly carrying their Bushmaster rifles and Glock pistols. Expect to see police wearing their new body armour," he said in a statement.
"Expect to see the Eagle helicopter in the air. Expect to see police executing search warrants at gang properties and stopping vehicles carrying gang members and associates."
A homicide inquiry was launched after the men were found at a home on Ormsby Lane, in Omanawa near Tauranga, on Tuesday evening.
Witnesses described running for their lives as gunshots ripped through the home just after 7.30pm.
Among those fleeing was a child.
Armed police swarmed to the residence, where they stood guard overnight. Police are still searching for the person or people responsible.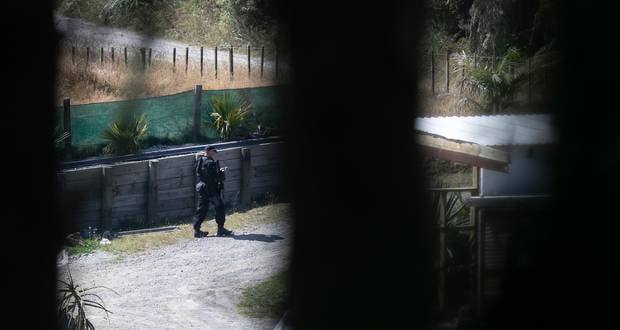 Armed police at the scene of the shooting. Photo / Alan Gibson
The deaths are the latest in an uptick of crime in the Bay of Plenty, following the arrival of the notorious Mongols Motorcycle Club in the area.
Their arrival stoked simmering tensions with established Tauranga gangs like the Greazy Dogs and the Mongrel Mob, with police warning the newcomers - hardened from inter-gang warfare with firearms - would radically change the criminal landscape.
Tuesday's homicide was the latest in a series of brazen shootings involving semi-automatic firearms, with a suspected arson along a row of the Bay of Plenty shops last month.
Nash said the Government was pouring more resources into policing the Bay of Plenty, targeting gangs and organised crime.
"Just yesterday police announced 10 arrests in a transnational drug syndicate responsible for importing vast quantities of methamphetamine and other illicit drugs.
An extra 91 full-time police officers are now working across the Bay of Plenty district, a booster after an ongoing drop in number in the last five years of the previous government, Nash said.
"What's happening there is happening all around the country. Since March last year police have seized more than 2,000 illegal firearms from gangs and other criminals."
Nash wants tougher penalties for gun crime and has challenged National leader Simon Bridges to support new gun laws at a parliamentary vote next week
Related Articles
Elk Hunt
Fly Fishing Guide
Silver Stock
Biker News
Disclaimer: The opinions in this article are solely those of the writer, and may not reflect the beliefs of anyone at the Biker News Network/Outlaw Biker World. This site may contain copyrighted material the use of which has not always been specifically authorized by the copyright owner. We are making such material available in our efforts to advance understanding of political, human rights, economic, democracy, and social justice issues, etc. We believe this constitutes a 'fair use' of any such copyrighted material as provided for in section 107 of the US Copyright Law. In accordance with Title 17 U.S.C. Section 107, the material on this site is distributed without profit to those who have expressed a prior interest in receiving the included information for research and educational purposes. If you wish to use copyrighted material from this site for purposes of your own that go beyond 'fair use', you must obtain permission from the copyright owner. If you believe that your copyrighted work has been copied in a way that constitutes copyright infringement and is accessible on this site or through this service, you may notify our copyright agent, as set forth in the Digital Millennium Copyright Act of 1998 (DMCA). For your complaint to be valid under the DMCA, it must meet certain criteria, and you must Click Here to contact acting agent.
Who's new
WayneNella7

Junebug72

Devilstar

brianmikenusker...

Tyrsson
Who's online
There are currently 0 users online.