Three Finks members arrested
Submitted by

THUMPERRRR

on Thu, 03/19/2020 - 5:20am
Three members of the Finks Outlaw Motorcycle Gang (OMCG) have today been arrested and charged with criminal association.  It will be alleged that on Sunday 8 March, the three men were riding in a group and met at a service station in Mannum. Police searched three premises this morning and located weapons (flick knife, baton and nunchakus), insecure ammunition and a cannabis plant.
Legislation makes it an offence for participants of OMCGs from Declared Criminal Organisations to be present in public in groups of three or more.  The Finks OMCG is one of the 10 Declared Criminal Organisations under the legislation.
The men charged are:
A 56 year old from Craigmore
A 43 year old from Elizabeth East
A 25 year old from Burton
All  men have been charged with one count of being present with two or more Criminal Organisation participants, the man from Craigmore was charged with possessing insecure ammunition and possessing prohibited weapons. All three have been bailed to appear in the Murray Bridge Magistrates Court on 4 May.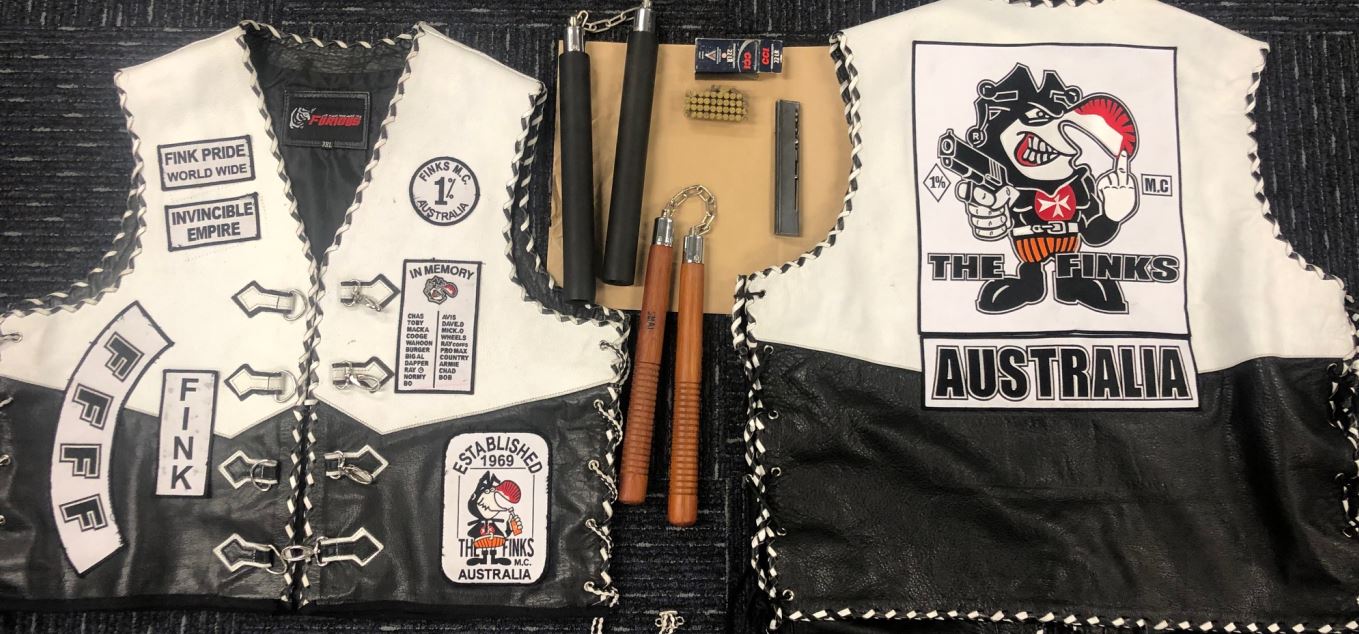 Related Articles
Elk Hunt
Fly Fishing Guide
Silver Stock
Biker News
Disclaimer: The opinions in this article are solely those of the writer, and may not reflect the beliefs of anyone at the Biker News Network/Outlaw Biker World. This site may contain copyrighted material the use of which has not always been specifically authorized by the copyright owner. We are making such material available in our efforts to advance understanding of political, human rights, economic, democracy, and social justice issues, etc. We believe this constitutes a 'fair use' of any such copyrighted material as provided for in section 107 of the US Copyright Law. In accordance with Title 17 U.S.C. Section 107, the material on this site is distributed without profit to those who have expressed a prior interest in receiving the included information for research and educational purposes. If you wish to use copyrighted material from this site for purposes of your own that go beyond 'fair use', you must obtain permission from the copyright owner. If you believe that your copyrighted work has been copied in a way that constitutes copyright infringement and is accessible on this site or through this service, you may notify our copyright agent, as set forth in the Digital Millennium Copyright Act of 1998 (DMCA). For your complaint to be valid under the DMCA, it must meet certain criteria, and you must Click Here to contact acting agent.
Who's new
WayneNella7

Junebug72

Devilstar

brianmikenusker...

Tyrsson
Who's online
There are currently 0 users online.