You are here
Home
›
General News
› The Real Story Behind Triumph Motorcycle Company ›
The Real Story Behind Triumph Motorcycle Company
Submitted by

THUMPERRRR

on Wed, 05/13/2020 - 5:59am
Created by Germans, built in Thailand, and alive and well thanks to the USA, the British bike has a fascinating past and a glorious future.
Death must be a biker, and a fun-lovin' bad-ass
Outlaw Biker
at that, because when Triumph
Motorcycles
hit the wall in 1983, Death decided he didn't think Heaven would want it, and Hell was probably afraid it'd take over - so he sent it back.
A Stitch In Time
That hadn't been the company's first brush with the aforementioned Grim Reaper (maybe we'll call him 'Brian'); Triumph Engineering had already gone bust in 1939, and been forced to sell both kidneys and a lung prior to that.
The most British of motorcycle marques was in fact the creation of a German. Seigfried Bettmann was born in Nuremburg in 1863, emigrating to England at the age of 22. He worked as a translator for a sewing machine company, and a year later founded the Triumph Cycle Company (always with the sewing machines and the bicycles, what is it about motoring pioneers?).
By 1902 Bettmann and his business partner, fellow German Moritz Schulte, had established manufacturing in Nuremburg as well as Coventry in England, and it was in the British plant that the pair first spliced a Belgian-made 2.2hp gasoline motor into a bicycle frame, to create the first Triumph motorcycle. Motorized cycle production also began at the German factory a year later, assisted by investment from Dunlop, who had a vested interest in increasing tire sales, and in 1905 the company began manufacturing its own engines.
By 1907 Triumph was making its mark in the exciting new world of motorcycle racing, producing over 1,000 machines a year.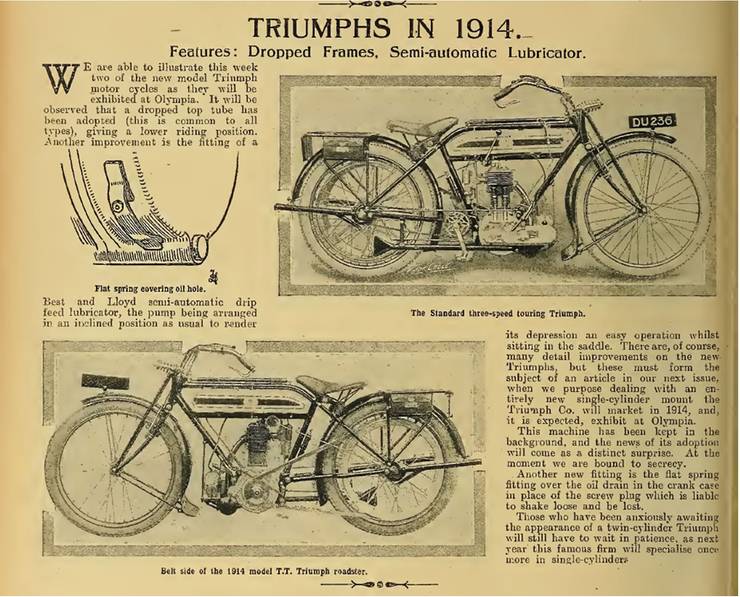 Related Articles
Elk Hunt
Fly Fishing Guide
Silver Stock
Biker News
Disclaimer: The opinions in this article are solely those of the writer, and may not reflect the beliefs of anyone at the Biker News Network/Outlaw Biker World. This site may contain copyrighted material the use of which has not always been specifically authorized by the copyright owner. We are making such material available in our efforts to advance understanding of political, human rights, economic, democracy, and social justice issues, etc. We believe this constitutes a 'fair use' of any such copyrighted material as provided for in section 107 of the US Copyright Law. In accordance with Title 17 U.S.C. Section 107, the material on this site is distributed without profit to those who have expressed a prior interest in receiving the included information for research and educational purposes. If you wish to use copyrighted material from this site for purposes of your own that go beyond 'fair use', you must obtain permission from the copyright owner. If you believe that your copyrighted work has been copied in a way that constitutes copyright infringement and is accessible on this site or through this service, you may notify our copyright agent, as set forth in the Digital Millennium Copyright Act of 1998 (DMCA). For your complaint to be valid under the DMCA, it must meet certain criteria, and you must Click Here to contact acting agent.
Who's new
WayneNella7

Junebug72

Devilstar

brianmikenusker...

Tyrsson
Who's online
There are currently 0 users online.