You are here
Home
›
1%er News
› Former US Hell's Angels chapter leader back in action filming on Spain's Costa Almeria ›
Former US Hell's Angels chapter leader back in action filming on Spain's Costa Almeria
Submitted by

THUMPERRRR

on Sat, 05/23/2020 - 6:07am
George Christie, the former president of the California Hell's Angels Ventura chapter, is back in Almeria filming 'Marked-The Unforgiven,' an adaption of his best-selling novel 'Marked.'
THE production had been halted due to the coronavirus crisis.
The series follows the story of a former Marine recon sniper, Jack Crest, who returns home to Ventura from Afghanistan and becomes the protege of the character, Big John, played by Christie. The two form a motorcycle club (MC) made up of only veterans.
Series producer Pat Andrews said the show is effectively a soap opera about the life of the club and the differences between the members, who range from regular guys to troubled individuals from broken homes, and former military whose personalities are shaped by combat experience in Afghanistan and Iraq.
Big John is billed as the father figure of a group of men with a whole bunch of issues, but held together by a strong belief in brotherhood and patriotism.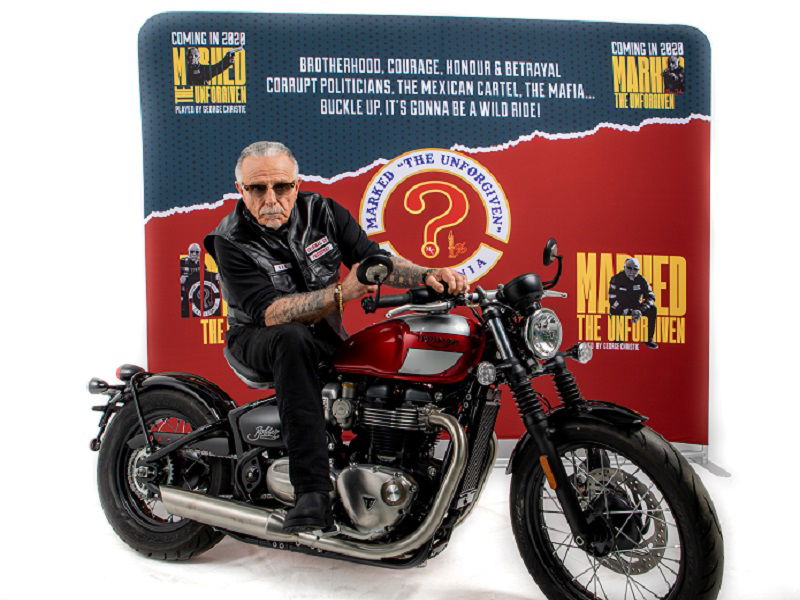 STAR: Book author and Hell's Angels Ventura former president George Christie plays one of the lead characters. CREDIT: Jose Maria Gomez, Hormiguea
Related Articles
Elk Hunt
Fly Fishing Guide
Silver Stock
Biker News
Disclaimer: The opinions in this article are solely those of the writer, and may not reflect the beliefs of anyone at the Biker News Network/Outlaw Biker World. This site may contain copyrighted material the use of which has not always been specifically authorized by the copyright owner. We are making such material available in our efforts to advance understanding of political, human rights, economic, democracy, and social justice issues, etc. We believe this constitutes a 'fair use' of any such copyrighted material as provided for in section 107 of the US Copyright Law. In accordance with Title 17 U.S.C. Section 107, the material on this site is distributed without profit to those who have expressed a prior interest in receiving the included information for research and educational purposes. If you wish to use copyrighted material from this site for purposes of your own that go beyond 'fair use', you must obtain permission from the copyright owner. If you believe that your copyrighted work has been copied in a way that constitutes copyright infringement and is accessible on this site or through this service, you may notify our copyright agent, as set forth in the Digital Millennium Copyright Act of 1998 (DMCA). For your complaint to be valid under the DMCA, it must meet certain criteria, and you must Click Here to contact acting agent.
Who's new
WayneNella7

Junebug72

Devilstar

brianmikenusker...

Tyrsson
Who's online
There are currently 0 users online.